Current
Sunday August 31, 2014 @ 10am at UUMedford Church in Medford Square, Hendrik Gideonse and I will be leading a gospel service. My vocal arrangements will be used for many of the songs. We'll also feature a rock band and a blues singer. Please join us.
I'm also teaching my freshman songwriting seminar this fall, running the BACA open mic mini-workshops, singing with BACA and ATAC, and recording more songs.
Recent
April 2, 2014,  Artists Behind the Desk concert series at MIT, joined by singer Vijay Kumar, bassist Jeff Merriman and songwriter Jennifer Zhang.
Sunday, April 21, 2013, 5 pm. Boston Assoc. Cabaret Artists Spring Festival
Thurs., April 25, 2013, 8:45 pm: half-time feature at Amazing Things Arts Center.
Music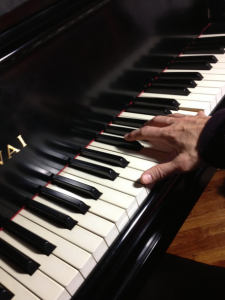 Maybe Today
Better Late Then Never
Stranded for a Weekend in Boston
Fall in Love All the Time
More Fish In the Sea
If Only I was Perfect
Love Jumped
more music on my MySpace page…